Descendent Studios has released a number of informational videos talking about the game. This page and its child pages will document all of the official information given by them.
Official Trailer
Edit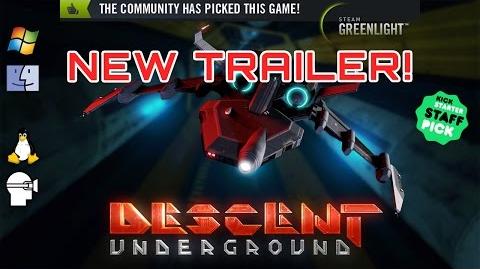 Pre-Kickstarter
Edit
Prior to the Kickstarter campaign, Eric "Wingman" Peterson released four videos where he talks about the game.
Official Series
Edit
Once the Kickstarter campaign began, Wingman's Hangout was rebooted under the Descendent Studios banner to support the Descent: Underground Kickstarter campaign. It is hosted by Wingman, and often includes questions from users on the Descendent Studios forums, their Twitch channel, or even via Skype at "descendent.studios".
During the Kickstarter campaign, a new series was released to do deep dive on various design topics for Descent: Underground. It is called Design Underground, and is hosted by Robert "Designopatomus" Irving.
Interviews
Edit
Descendent Studios has produced interviews with several members of their team.
Robert "Designopatomus" Irving - March 15, 2015
Phil "Bluedog" Tittle - March 18, 2015
Michael "Viewmaster" Morlan - March 25, 2015
Works in Progress
Edit
There have been a number of work in progress videos released by Descendent Studios.
Sneak Peek WiP Map - March 13, 2015
WiP Concept Map Update - March 20, 2015
Map Update - March 26, 2015
What is Six Degrees of Freedom? - April 2, 2015
Typhoon Ship WiP - April 3, 2015
Very First Multiplayer Test - April 3, 2015
Oculus Rift Test - April 6, 2015
Other Videos
Edit
Here is a list of other videos related to Descent: Underground.
Team meeting - November 22, 2014
Galactic Inquiry Episode 16 - February 7, 2015